How does a Maine forester go back into the woods of the late 1970s without a time machine?
By burning things, of course.
At least, that's how Roger Ryder does it. And even sans time machine, he'd like to take you with him.
Now you might be like, woah, Micky. Slow down. I'm not sure I want to run around burning things with a retired forester. Well, I did, and I can say with absolute certainty that it's a great time, although probably not in the way it initially comes off. The truth is, Roger is a pyrographer based in Lincoln, Maine.
To be clear: that's pyrographer, not pyro. Pyrography is the art form of burning designs into wood, paper, leather, dried gourds. You name it, you can burn it. Roger likes to focus on wood and paper, because those mediums and the images he creates on them bring his mind, if not his body, back to the Maine woods.
"Being in the woods and a forester, your background training is such that you learn about everything. You learn about wildlife, the entire environment, trees, people, geology, geography. You learn all aspects. And for me, being out there in the woods on a daily basis, you see what people normally don't see," Roger told me reverently while sitting at the kitchen table in his Lincoln home.
"You see the sun coming up, and it shining on the edge of the pinecones in the morning. And it gives you a different perspective. And then we worked at night — and come 2 o'clock in the morning, everything is just brightly lit just where you're working, and all the tones, everything you see is entirely different.
"People forget about that because you're so entrenched. But for me, that made a connection. Seeing ice in the spring on all the trees and all the glistening of the snow, you know, the very first snow. Everything looks dirty and then it snows and everything is perfectly clean. All of that kind of is what inspired my technique in burning.
"It's my way of going back into the woods and re-experiencing things, personally. And that's what I try to put onto either wood or paper."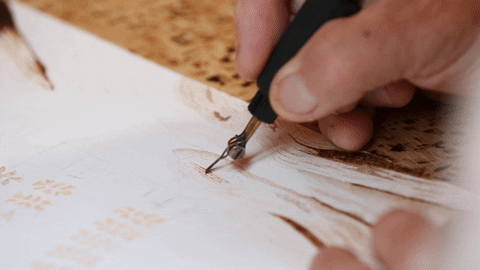 The woodburning first started when Roger's son, Josh, got his first bat for little league baseball. Josh was worried that his bat might get mixed up with the other kids' and wanted to find a way to customize it. So Roger's wife, Alice, ran out to the store and brought back a basic woodburning tool. He put pen to wood and wrote out his son's name, and that was that.
But soon Roger became the go-to guy for woodburning needs in his circle of family and friends; I mean, he had the tool. He says that "initially it was more a chore out of Alice's chore jar" than a craft, let alone an artform. But Roger also makes canoes, and eventually he started using the tool to put little designs on them. As he became more engrossed in that, he eventually graduated to craft plaques, and then started really exploring the limitations of both himself and the burner to see how far he could go with the designs.
What he's found with woodburning so far is that it's pretty much boundless. He's progressed to intricate images, often things inspired by his time in the woods. And more often on paper, because it offers a deeper tonal range to the finished work.
The more intricate he can make his images, the closer he feels he can bring people to that awe and wonder for nature he once experienced as a forester.
"For me, I disappear," he said about the process, which can take upwards of 40 to 60 hours for one 8×12 piece. "I go back to the woods, the garden, or wherever."
And when it's not the woods, it's some other memory from his life with Alice, always based on photos she's taken. A family vacation. Flowers in the backyard. The potato fields of Aroostook county or lobstermen on the coast. Whatever he's working on brings him back to the moment in time he's interacting with, puts him into the photograph.
Alice takes the pictures and, according to her, Roger "brings them to life again."
The Ryders say that people will come up to them at craft fairs and tell them stories, memories that the art inspires in them. A piece depicting potato fields may bring on comments like, "Oh, I remember when I  was a kid and used to pick potatoes by the barrel."
"That alone is worth all the time you put into your art because not only do I remember a moment in Aroostook county, but they do too," Roger said.
Through his art, Roger brings you places. So, honestly, you don't need a time machine. If you look carefully enough then maybe, just maybe, you'll end up alongside a forester in Maine's beautiful woods.
---
CONTACT INFO:
Roger Ryder
http://www.penobscotpyrographics.com/
penobscotpyro@gmail.com
Lincoln, ME