Christian Carlson is a man obsessed. Addicted. In love.
With fish.
He has to be, to spend all hours of the day obsessing over their perfect reproduction, and to experience time and time again the particularly rank smell of a fish that has been settling into rubber solution for about eight hours at over 70 degrees.
Yeah. That smell is love, people. True love. Don't let anybody tell you otherwise.
You see, Christian is a reproduction fish taxidermist. Meaning, his final product is not a skinned and stuffed scaled friend but a perfectly realistic, exact rendering of one in plastic and paint. That smell-free plastic base is often cast from a mold of the fish in question, which Christian makes by freezing and thawing it in a salt solution and then pouring gobs and gobs of rubber on top.
Sometimes he'll reproduce a fish years past the catch and release (or digestion) of a fisherman's trophy, relieving him from the smelly molding process. Either way, he strives for perfection. Because these aren't just fish: they're memories.
An eight-year-old boy's first catch. The last fish caught on a man's last trip with his father before he passed away. The catch of a lifetime: a trophy fish of truly epic proportions. Big or small, fresh or remembered only through photos and measurements, Christian is there to help make these fish "come back to life."
"I think that that's really special. I feel really, really honored that people would want to have me create a piece of art for them to remember their friend or family member by," he says, admitting it was an aspect of the trade he never anticipated but now truly enjoys. These fish — his fish — are important pieces of his clients' lives. So it's important to him that they be as exact as humanly possible.
Christian has well over 200 pigments stored away at his home studio in Thorndike, Maine, all used to create the correct colors in the fish he replicates because, "you know, you can't really buy a color paint from Hobby Lobby or Golden or the taxidermy supply shop and say, ok, well, this is my color for a brook trout back, or whatever. Because they're all different."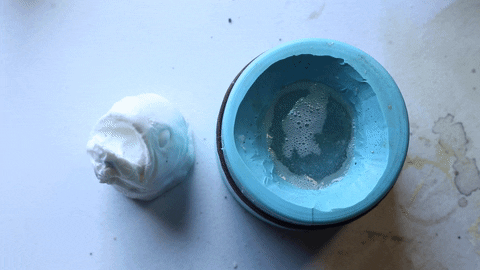 The chemicals used to cast a fish head react and harden.
Christian says he appreciates fish so much that he was never afraid to try and "do them justice." While he adamantly stresses that his first fish "weren't awesome", trying to reverse engineer the coloration, identify where they're at in their life cycle, notice and replicate those small differences and particular characteristics that make them unique, all makes him very, very happy.
"I try and make that fish tell a story," he says. "I guess I'm just addicted to fish in general. My life theme is about fish.'"
He tells me he's the kind of guy who honestly wishes he could spend every day fishing, and I believe him. He's been at it since he was a little kid, receiving his first fly rod in second grade and starting to tie flies in third. He said he spent many a day casting in his backyard trying to catch paper plates.
An entrepreneur at heart, even as a child Christian would often draw up business plans, many of them fish related. At the age of 13, he started running his own small bait and tackle shop on a road to Lake Superior, Michigan, where he grew up. The years went by and his work experiences widened to include aquaculture, coral farming and even selling fish to the local pet store. He started and sold a trapping supply company, then did the same with a trapping lure company.
Then came the fish taxidermy, which he says is just part of the "natural progression" of his life. Christian's taxidermy interest started a long time ago — he just "never did anything with it." Until now.
There are a variety of reasons Christian didn't want to try his hand at skin taxidermy — mostly because he's "probably seen more horror stories than really nice fish." To him it also seemed like the industry was moving more toward replicas, which give the fisherman more autonomy to do whatever they'd like with their catch: eat it, release it or cast it.
Christian wasn't sure when he started his business if there'd be a market here, but, "You know, it seems like Maine is really excited about it."
---
Carlson's Fish Taxidermy
Christian Carlson
http://www.carlsonsfishtaxidermy.com/
Thorndike, ME
207 568 3679