Shells on the beach. The statue of liberty — as seen on the U.S. quarter. A hippo.
If you can dream it, Tamara Duff will make it into stained glass for you.
Trained as a painter, Tamara can't really put into words how it is she ended up working with stained glass for over thirty years. When I pose the question to her, she furrows her brow and tilts her head. A quiet settles between us for a few moments. And then, she laughs.
"I'm not quite sure how it happened," she says, shaking her head. It just did.
Tamara kept trying to go back to painting, but something about stained glass just stuck with her. She muses that it may have had something to do with the drawing and designing — the things that she may have missed if she'd picked up other art forms.
It's not easy designing for stained glass panels, she assures me. You're working in a very specific, confined space with big ideas. There are limitations to how glass can be cut without breaking. And every line has to mean something to the design.
"You want to make sure that every line is a part of the design and you're not doing it just to get there," she says. Then her eyes light up and she moves her hands animatedly. "And the glass, you know, it's just… The colors."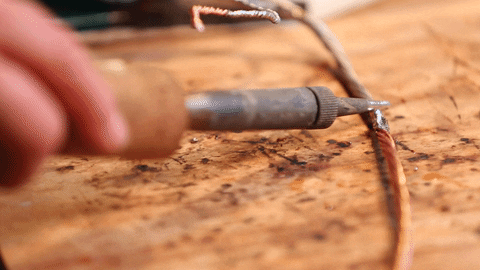 Because the colors in glass speak so deeply to her, Tamara doesn't do colored sketches for her commission clients. She says the color in drawings never prove true enough to the actual outcome; they confuse the design process more than help it. She prefers to meet with people face-to-face, providing design outlines and bringing glass samples for the piece in question.
Tamara has glass everywhere. She just can't stop accumulating it. Boxes and boxes — people give her glass, she gets it for new projects and her tastes have changed over time, meaning lots of old, unused glass. It's just that glass comes in so many different colors, textures and clarities. She wonders if she'll ever be able to use it all.
When Tamara first started over three decades ago, she did lots of small birds on branches and woodland animals. She'd make baby mobiles and sometimes panels. A lot of her work was done from home, so she could raise her kids. And Tamara always enjoyed the people at the craft fairs and shows she frequented.
As she's gotten older, though, she "got tired of doing 15 chickadees or 12 nuthatches or whatever." So she switched to working on larger scale, commissioned pieces. Which is why if you dream it, she'll make it for you.
"When people ask you to do something outside what you're normally drawn to it makes you stretch," she explains. "Which at my age is something you really have to do."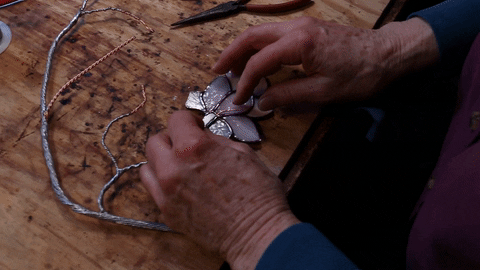 ---
CONTACT INFO
Tamara Duff
http://www.tamarascustomstainedglass.com/
tamarak@myfairpoint.net
Ellsworth, ME
207-667-5621