From the frozen mountains and clear lakes of Vermont to Maine's salty ocean waves, Mike Lavecchia loves carving up water in New England. He also likes… well, carving.
Mike is the founder and principal owner of a wicked cool York-based company: Grain Surfboards. I heard about them through BDN photojournalist extraordinaire Ashley Conti, who has been jonesing to attend one of their wood surfboard workshops for quite some time.
She could not have sent me towards a cooler guy. Or a cooler company.
Mike's got a sweet backstory — between summers basking and splashing on the Jersey Shore to family winter trips in snow-dusted Vermont, he developed a deep love for water in all its forms. He knew from a very, very young age he wanted to move North, and as soon as he was old enough proceeded to hang out in the green mountain state for over 20 years.
Twelve of those were spent working for Burton, feeding a passion for snowboarding. Then he followed the call of the sea and operated commercial sailing boats on Lake Champlain. From there, Mike spent four or five years working with a team to build an 88′ wooden schooner with the Lake Champlain Maritime Museum. The project combined his love of boats and the sea with woodworking. Moral of the story: go where your heart takes you. Because eventually…
Somewhere in the midst of all this, Mike started making trips to Maine with friends and family, watching them surf and eventually trying it himself. He was immediately hooked on the feel of snowboarding combined with a closeness to the ocean. I mean, honestly, he was practically destined for this sport.
What started as a desire to make himself the perfect board in his garage — a natural jump after making his own snowboards for years and years — evolved into requests from friends and family. He never could have guessed that the business would grow like it did. He never even fully intended to stay in Maine.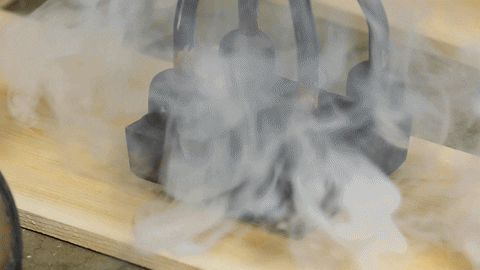 So, what does a woodworker who wants to build a surfboard build it with?
"I never had any interest in working with foam," Mike tells me, shaking his head. This is a man who builds boats. Of course he'd choose wood over chemicals. Plus, it smells really, really good.
None of the guys in the shop — with the possible exception of one, Mike's not exactly sure — have ever shaped surfboards in foam. They all come from backgrounds of boatbuilding, cabinetry, furniture making, etc. For them, it's all about wood: 99% Maine grown and Maine milled cedar, to be exact. And they do their best to use every single scrap of it and do sustainable woodwork. They want the process to be low-impact on the environment — the crew at Grain even uses all the latest glues and bio-based epoxys.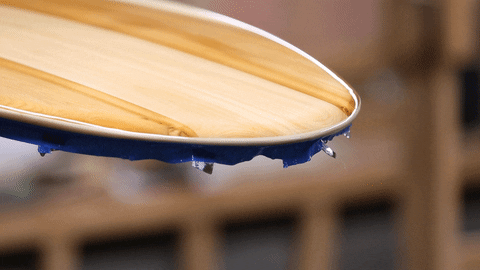 They do all this not because it's cost effective — Mike assures me that the surf industry is not a huge moneymaker — but because it just feels right. The guys involved in this shop all love surfing, woodworking, the ocean, the forests and really just the planet. Call it stereotypical, but they're surf guys. They're more concerned with experiencing every day at its fullest and loving the lives they lead than making money. And the real value in this venture for them is the joy of each other's company and working with their hands.
As mentioned previously, that love for the work is something they decided very early in their ventures to pass along to others. Sharing the skills follows the history of surfing — before foam, people made their own boards. Out of wood. The crew at Grain want to bring people back to that.
Call up Grain and they'll send you a kit with all the materials you need and a big, thick instruction manual. The guys will be ready by the phone in case you need help. If you don't have the space, head on over to York to do an in-house workshop — or to their new workshop in Amagansett, New York where they're hoping to open a year-round classroom.
Possibilities continue if you keep an eye out for their west coast mobile workshop/schoolbus from Oregon to Southern California, or their east coast horse trailer camper that they drive from Maine to Florida. In June they're taking it to the great lakes to teach in Michigan and Wisconsin. These guys literally cannot spread the love enough.
It's all Mike never dreamed of — yet, considering his life and crazy knack for enjoying it, seems almost inevitable.
---
CONTACT INFO
Mike Lavecchia
http://www.grainsurfboards.com/
info@grainsurfboards.com
York, ME
207-457-5313