From working on destroyers at Bath Ironworks to shelves lined with sailboats, herons, lupin and bumble bees, Kim Walker's spent nearly two decades respectively on two very different careers.
Making the switch certainly wasn't easy, but it can be very succinctly described: "I read a book on tile making and I quit my job."
Some of Kim's custom molds. The truly custom stuff she doesn't keep: she breaks them to guarantee her clients absolute originality.
To be fair, Kim never planned to spend 17 years working with ships' electrical design, but life often goes places you never predicted for yourself. She describes a childhood ceaselessly drawing on a blackboard her father made her as he spent weekends building furniture. Eventually, she went to school for art education, and when she graduated started illustrating for technical manuals. That eventually brought her to electrical systems. The electrical design brought her to ships.
Even though her attraction to the job was based in a skill for illustrating, as Kim put it, "I found myself on the computer for 10, 12, 14 hours a day, seven days a week and I just wanted to be creative."
She says the only thing that kept her sane through her ship designing years was working second shift. She'd paint and draw all day and then go to work at night. As most artists know, you can't escape your creativity. It needs (excuse the pun) an outlet.
With the help of a book on tile making, Kim eventually found hers.
In a lovely twist of fate, right before she decided to quit working for Bath Ironworks, this little tile store (which happens to be one of the biggest showrooms in Portland nowadays) opened. Even though Kim had just started making tiles, she decided to give the shop a call to gauge any eventual interest in her work. Maybe they'd be interested, she thought. Maybe there's something here that's more full-time.
The man who answered the phone told her to come down the next day. Kim was taken completely by surprise — she had just started after all — and ended up walking into the store the following day with a tray of wet tiles. She hadn't had enough finished works stockpiled to make a proper presentation. Despite her unfinished work, Kim says the man took one look at her tiles and told her he'd carry them.
That's what did it for Kim. It was a real, solid opportunity to spend her days creatively. And while quitting your job is nerve wracking — especially to follow your heart and creative spirit, and especially after 17 years —  Kim's husband convinced her to go for it.
"It was the best thing I could have done," she said. "I mean, I had a great job designing ships but it just wasn't what I was meant to do."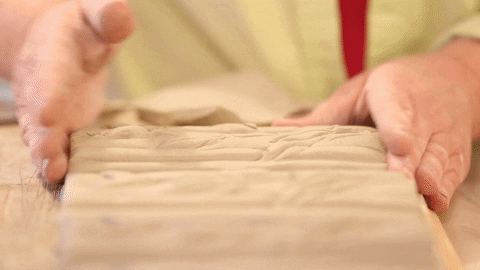 The tile store got Kim her first custom jobs. They sent her off to homes and said, "Go do it!" So she did. She said the first few years were very sink or swim, and she worked a lot of hours. She eventually had a "thriving" business in the Portland area; until her husband got a job in Bar Harbor.
Kim admits that her first thought was, "Where are you taking me? It's kind of in the woods up here." But they fell in love with Franklin and the Ellsworth/Bar Harbor area, and in retrospect Kim wouldn't want it to have gone any other way. Even though her company went "on the back burner" for a bit, things eventually fell into place again.
It was both scary and exciting; this time she was on her own.
Why clay? Kim can't exactly put her finger on it. But it combines home improvement with art in a way that a painting or a sculpture usually doesn't — the work Kim does becomes a permanent part of a house. In a sense that anything in a home is permanent, sure, but still, more so than something you hang or put on a shelf. Tile is functional, she says. Substantial.
Plus, she loves the consultation aspect of it, designing tiles that will compliment her clients style and spaces, working to make their visions reality. She does custom work in homes up and down the coast of Maine; mostly fireplaces, showers and kitchens. Once she even did a pool.
"I love what I do. It got to the point where I was like, 'You live one time.' And honestly, it was like night and day. Every day I felt better and better and better and happier."
---
CONTACT INFO
Kim Walker
http://heirloomtileworks.com/
kim@tilesbykimwalker.com
Franklin, Maine
207-479-2840