Over 20 years ago Laurie Sproul, then Laurie Stearn, sat down for her first wood sculpting class. A lifelong whittler and crafter, she'd taken the course "on a whim." But she had a plan: carve a flower to give her mom on Mother's Day.
She had no idea that flower would change the course of her life forever.
To be fair, the effect of that flower wasn't immediate. It would take Laurie ten years to look back on it and realize its significance. Enamored with nature, and coming from a family of educators and lifelong learners, Laurie stumbled through academia for years after, securing a degree in art education and then starting work on a master's degree in oceanography.
"I love the natural sciences, but the science mind just wasn't there in my head," she told me from her workshop in Canton. The room, basked in light from walls of windows, was crowded with the tools of her trade. She paused, shaking her head, and went on to explain that she hadn't pursued art education after graduating because she had been afraid that it would handicap her ability to be a true artist. But then, she hadn't pursued artistry because it hadn't really seemed like a sustainable career choice.
Over the years, Laurie became increasingly frustrated with the question, "What do I want to do with my life?" She jokes that eventually she cut off her hair and started wearing black to get into the artist mood. Then a comment from a woodworker friend from years ago came to mind, and wouldn't stop bouncing around her brain — that her wood carving, her flower, had been good enough that she could "probably make a living doing it."
So she stopped working on her masters degree and went back to wood.
"I'm not sure why it didn't click sooner, but when it did it was like, where has this been all my life," she said.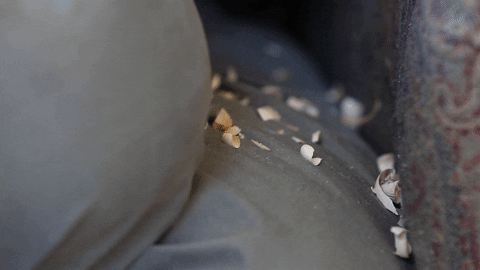 Laurie chalks up her "lost" years to that constant question in the art world of what is a craft and what is an art. She grew up in a household of both: her father had a wood shop and worked on canoes and her mother was a folk artist. Laurie grew up whittling and making little toys out of leftover balsa wood, making things from shells, selling things here and there at craft shows.
And never, not once in all those years, did Laurie consider herself an artist. She saw art as being two dimensional — things like drawing and painting. Things she had never had a real propensity for. So in her mind, she was just crafty.
Not so much anymore.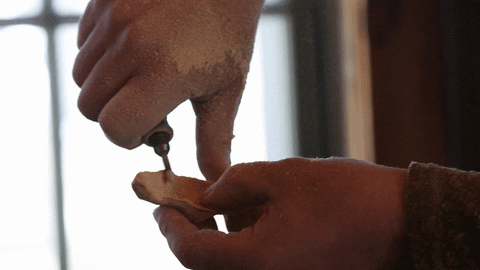 When Laurie first went back to carving, the shapes of leaves and flowers just "spoke to her." She'd go on walks and find that she couldn't wait to get home and carve the flowers she'd seen. Laurie reasons that says some of the attraction to her subject matter is that flowers are "a springboard to shapes that don't necessary have to be exact." She was also attracted to the thinness of the wood, the feel of it in her hands as she whittled.
"It really intrigued me to take a block of wood and turn it into this really live, elegant shape, that's thin and shows off the grain," she said. "I just love it."
Recently, Laurie's art has started to take a new direction, pulling her back into her love of the natural sciences. She's experimenting with pieces that reflect climate change, and carves "Sunflowers for Sustainability" to show that energy from the sun can sustain beautiful, healthy life. She says she's lucky that her medium is what it is — wood "suits her voice."
"It's that ultimate connecting with something in you that you can contribute that's the real value of this all," Laurie tells me. "It's not the wooden flower; it's the joy of making it and connecting with nature, and having something to say about it."
---
CONTACT INFO
Laurie Sproul
http://www.lauriestearns.com/
lauriesproul65@gmail.com
Canton, ME
(207) 725-5389