Imagine hating something that keeps you up at night. That makes you go hungry. That consumes your thoughts, your time and much of the space in your home.
Now imagine loving it.
Welcome to Leslie Jones' reality.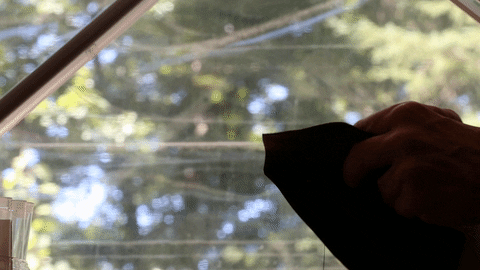 Beads keep Leslie up at night.  Beads and rocks, sea glass and buttons. Doll heads and glass gems pried from old jewelry. Beads make her go hungry when she spends the grocery money on new colors and styles. Beads consume her thoughts, much of her free time and many of the drawers and closets of her home.
And the funny thing is, Leslie did hate the beads at first. She hated them so much she packed them away and shoved them into a closet. But that was the first time she tried them, and long before they turned her life, and her heart, topsy turvy.
Let's just say it's a good thing Leslie believes in second chances.
"I didn't get it. It didn't click, it wasn't fun," Leslie tells me, a handful of brightly colored, tiny little beads scattered on a cloth on the table in front of her and a piece of half-finished bead embroidery gently resting in her hands. But the second time. The second time was magic.
"That was it. With the first stitch, I was hooked," she says with a small, almost bewildered smile. "I didn't like it. And then I did like it — I loved it. In fact, it's an obsession. I can't stop."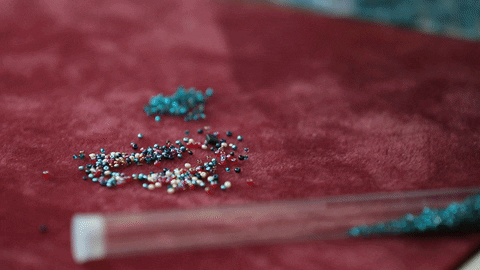 During our interview, Leslie goes on to describe her bead embroidery as many things that have negative connotations: a sickness. An addiction. A consumption. But all of these things are fed by the purest love and passion.
Art first became a part of Leslie's life, "oh my gosh, when I was born." Her Mom was an artist who made what she could from what she had — patchwork vests from furniture sample books, or tiny doll cribs from salt and pepper shakers. Her family had a policy where they had to create gifts for each other. This led Leslie to fiber art, jewelry making, knitting and many other different crafts over her lifetime. Too many to count. When she was a child she even did classic embroidery.
Leslie tells me, "Until you find the right thing you try a bunch of things. But this? This is it."
She has a hard time explaining what it was about embroidering beads that completely captured her. Perhaps it's the way she captures objects — using a needle, thread and her tiny little beads, she encases all sorts of things in a bed of patterns. Inspiration comes from everything: a dream of blue sea glass with silver beads and pearls, or half finished pieces that haven't "called out" to be finished quite yet.
Leslie salvages a lot of vintage things, so sometimes "there may be memories or something contained in there that become what they're supposed to be."
One her first pieces involved a memory of her own. For almost 45 years she held onto a single earring of her mom's, tucked away in a jewelry box. She couldn't wear it, seeing as it was only one, and a clip-on to boot. So one day she "took a chance" and pried it out, eventually turning it into a necklace that she loves and can actually wear.
It's something she's done time and time again for one particular client who has commissioned over 50 pieces made from old jewelry her mother left her.
Leslie immerses herself in the work, immerses herself in the call of the beads and the stones that surround her. She sketches when she's not stitching, and sometimes will have to drop every — even sleeping — in order to sit down and get the inspiration from her brain into cloth. Often times she'll look up from her work and realize three hours have gone by.
Keeping it up is hard, as there's only so much time in a day. She works part time jobs since her gallery in downtown Ellsworth, Magenta Magpie, closed last August. But the rough and tumble of it just drives her to try harder and harder every day.  It's passion that keeps her going, not money. As she gently reminds me after telling me she often chooses beads over groceries: money can't buy you happiness.
Only love can do that.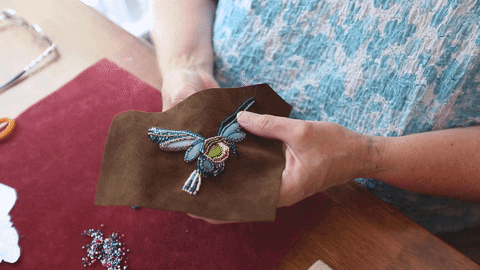 ---
Leslie Jones
https://www.facebook.com/LeslieJonesJewelry/
Southwest Harbor, ME